Hunting
Pheasant - Small Game - Big Game
South Dakota is well known world-wide for it's amazing hunting opportunities. The pheasant population in the state makes it some of the best pheasant hunting you will find. South Dakota also has many big game and other small games opportunities as well.
Obtaining a Hunting License
All South Dakotan hunters are required to have a valid license in their possession while pursuing, shooting, or transporting any hunted animal. Learn more about South Dakota hunting license.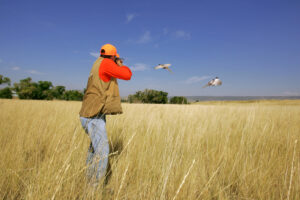 Pheasant Hunting
Pheasant Hunting in South Dakota has definitely became the state unofficial pastime.
When it came time to pick the design for South Dakota's state quarter in 2005, it was a given that Mount Rushmore would be included.
The only question was whether Mount Rushmore should appear alone, or whether it should appear with a buffalo or a pheasant.
From tracking the flight of a pheasant over an East River cornfield to stalking big game across the rugged West River plains and Black Hills, South Dakota truly offers hunters a land of infinite variety.
South Dakota hunting adventures can be as tame as taking aim at a prairie dog or as wild as tracking down a mountain lion. The state's array of game animals also includes small game such as grouse, ducks, geese, fox, coyotes, and pheasants, and big game such as turkey, deer, antelope, elk, mountain goats and bighorn sheep.
In excess of 275,000 people – an amount that's more than a third of the state's population – obtain hunting licenses annually in South Dakota. It seems that whatever the time of year, there's an animal to be hunted and an opportunity to hunt it.
Small Game Hunting
With nearly 5 million acres of land designated as hunting territory, South Dakota is a hunter's paradise. At any time of the year, the state offers plentiful hunting of various prey.
While pheasant by far the most popular small game hunted in the state, it is rife with many other species that have their own designated hunting seasons. Some of those include grouse, partridge, quail, dove, rabbit and squirrel.
Big Game Hunting
South Dakota has an abundance of big game that can be hunted throughout the state.
Licenses are issued on a lottery basis for all of the big game. Many licenses are issued based on the region of the state as well. 
The big game available in the state are deer, antelope, elk, turkey, big horn sheep, mountain goat, and mountain lion. For some of them listed there are various restrictions on who is eligible, but check out the Game Fish and Parks website for more details.
Waterfowl Hunting
The South Dakota waterfowl hunting has been the best it has been in decades. Whether you are searching for ducks or geese you will not find a shortage in the eastern part of the state.
South Dakota is in the heart of the "Central Flyway" for many migratory waterfowl. Whether you are hunting for ducks, geese, swan or crane; you will find an abundance of them in the area typically in the spring and fall.
Licensing for waterfowl works very similar to small game licensing.
South Dakota Hunting Lodges
There are many hunting lodges located all throughout the state. Each offer a variety of different types of hunts. Many focus on pheasant, while others focus on big game. No matter what you are looking for, there is certainly a lodge that can fit your needs.
Great Faces. Great Places.
South Dakota is an incredibly unique state in that each region offers a completely different experience then the others. Check out each of the regions to see what each has to offer!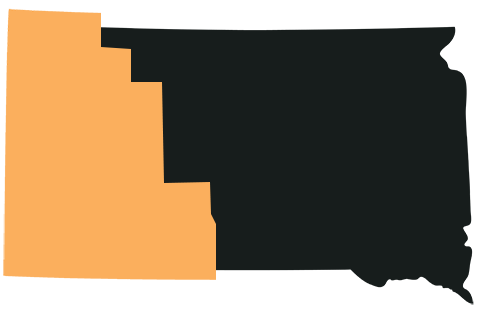 Western South Dakota
Featuring the Black Hills, Badlands, the Sturgis Rally. This region tends to be the most popular.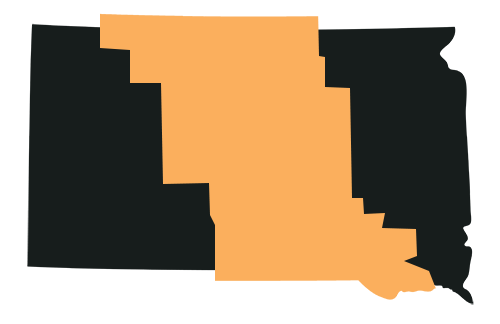 CENTRAL REGION
This region of South Dakota offers some of the best hunting and fishing in the entire central US.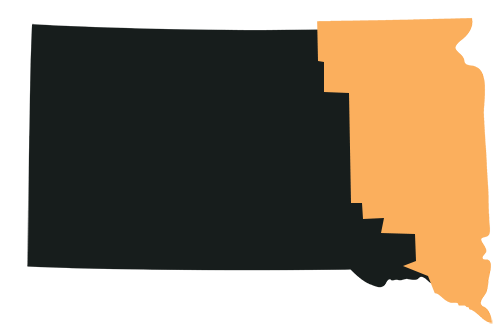 Eastern Region
The eastern region is home to the largest city in the state and provides visitors with a true "prairie" experience.