Picturesque national parks, monuments, and historical sites draw millions of visitors to South Dakota each year. The National Parks of South Dakota are a mecca to travelers in search of unique vacationing experiences. Travelers to these scenic outdoor areas are treated to unique geologic formations, pristine water reservoirs, and an abundance of outdoor recreational activities.
Mount Rushmore National Memorial and the Minuteman Missile National Historic Site are powerful representations of our nation's freedom and South Dakota's history. Mount Rushmore National Memorial commemorates the first 150 years of the United State's history. Visitors can view the majestic granite sculptures of George Washington, Thomas Jefferson, Theodore Roosevelt, and Abraham Lincoln, and become inspired by this enduring symbol of our nation's freedom. The Minuteman Missile National Historic Site once housed warheads capable of mass destruction. Learn more about the Minuteman Missile's role in maintaining peace against the threat of Cold War, and explore actual launch sites and control center sites.
At The Badlands National Park, visitors are awed by the buttes, pinnacles, and spires that were formed more than 35 million years ago by erosion and glacial movements. The Badlands are also home to one of the world's richest mammal fossil beds.
Retrace the path of explorers Lewis and Clark on land at the Lewis and Clark National Historic Trail, or by water at the Missouri National Recreational River site. While at Missouri National Recreational River, enjoy popular aquatic activities like canoeing, kayaking, fishing, hunting, and hiking.
Below the surface of the beautiful mixed-grass prairies and the beating hooves of bison and elk lay the treasures of two national park caves. South Dakota, home to the world's second and third longest caves, is a spelunker's delight. Jewel Cave National Monument, with more than 143 miles of mapped passageways, enchants visitors with its glinting walls of calcite crystals. Wind Cave National Park, mapped at 128 miles in length, features the world's most extensive formation of boxwork, which resembles a lace made out of minerals like calcite in caves.
SD National Park Fun Facts
3,928,433 visitors to National Parks
$334,300,000

 

Economic Benefit from National Park Tourism
$90,173,148

 

of Rehabilitation Projects Stimulated by Tax Incentives (since 1995)
$39,935,617

 

of Land & Water Conservation Fund Appropriated for Projects (since 1965)
201

 

Acres Transferred by Federal Lands to Parks for Local Parks & Recreation (since 1948)
32,416

 

Hours Donated by Volunteers
1,365 National Register of Historic Places Listings
16

 

National Historic Landmarks
13

 

National Natural Landmarks
148

 

Places Recorded by Heritage Documentation Programs
733,013

 

Objects in National Park Museum Collections
617

 

Archeological Sites in National Parks
*Data provided by National Park Service (9/30/19).
South Dakota National Parks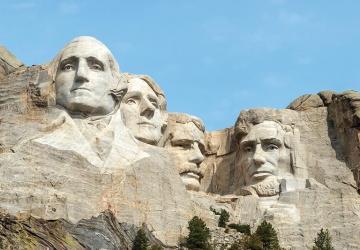 The majestic granite sculpture of Mount Rushmore commemorates four powerful presidents who helped shape our nation: George Washington, Thomas Jefferson, Theodore Roosevelt, and Abraham Lincoln. 
Each year, more than 3 million travelers visit South Dakota's top attraction.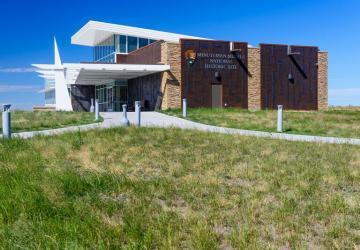 Standing on a windswept patch of western South Dakota prairie and looking down into a hole at the cone of a missile as motorists zoom past on nearby Interstate 90.
The complex, one of six located in the central United States, was built as a deterrent to a nuclear first strike by the Soviet Union.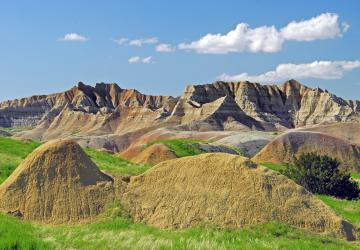 One of the most popular attractions in western South Dakota, the Badlands National Park provides its visitors dazzling views of beautiful, striking rock-like formations.
The buttes, pinnacles, and spires formed by winds and glacial erosion more than 35 million years ago.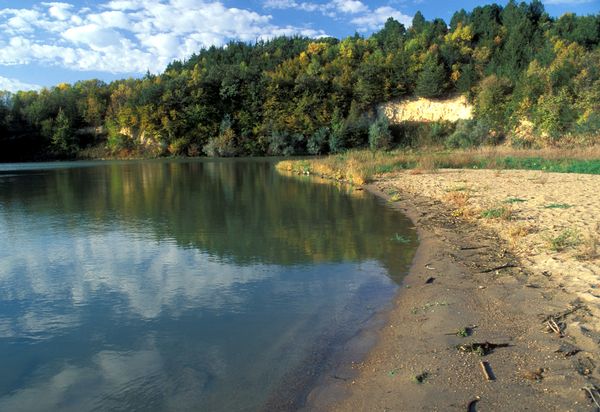 The only portion of the Missouri River left unaltered by channels or dams can be found on the border between South Dakota and Nebraska at the Missouri National Recreational River.
The Missouri National Recreational River contains 100 miles of free-flowing waters and is an excellent area for enjoying many outdoor activities.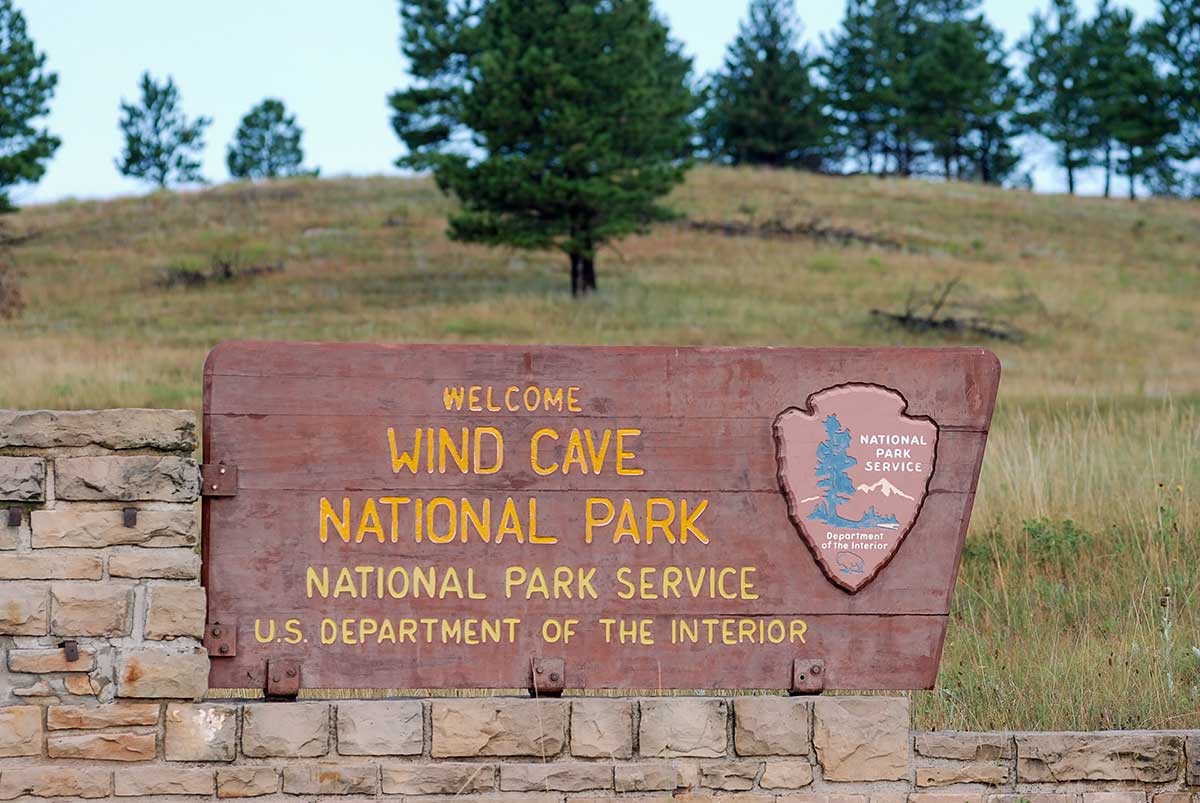 Wind Cave National Park, located near Hot Springs, South Dakota, was the first cave in the world to receive National Park status.
To date, more than 128 miles have been mapped at Wind Cave, designating it the third longest cave in the United States and the fourth longest in the world. It's revered for it's "boxwork" formations.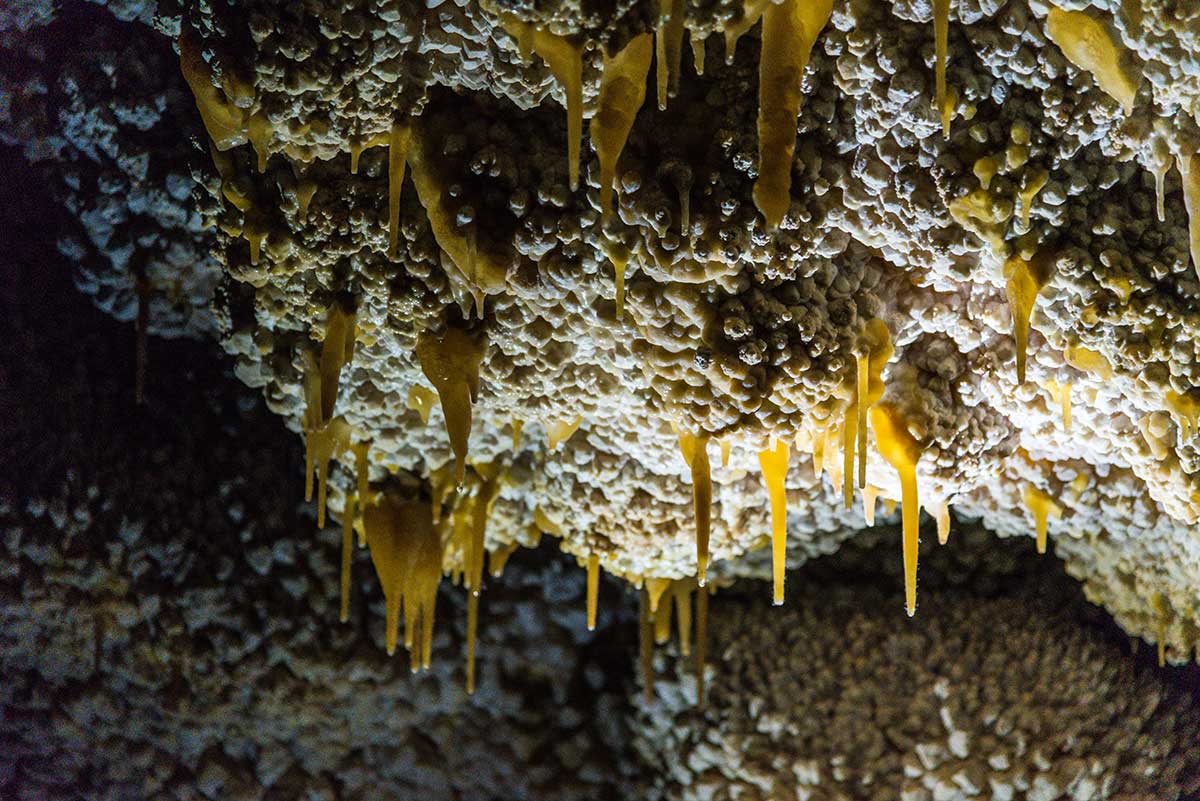 Nestled in the Black Hills, just west of Custer, lies a hidden treasure by the name of Jewel Cave. A staggering 200 miles of mapped passageways, Jewel Cave, is currently the second longest cave system in the world and the deepest cave system in the Black Hills area.
It is located roughly 13 miles west of Custer, SD.
Great Faces. Great Places.
South Dakota is an incredibly unique state in that each region offers a completely different experience then the others. Check out each of the regions to see what each has to offer!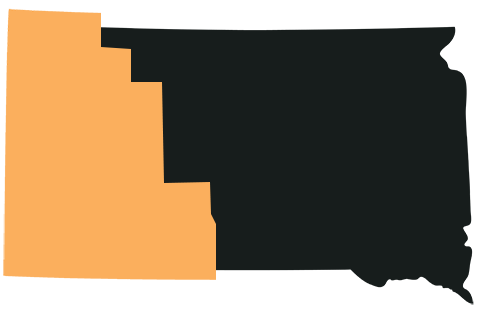 Western South Dakota
Featuring the Black Hills, Badlands, the Sturgis Rally. This region tends to be the most popular.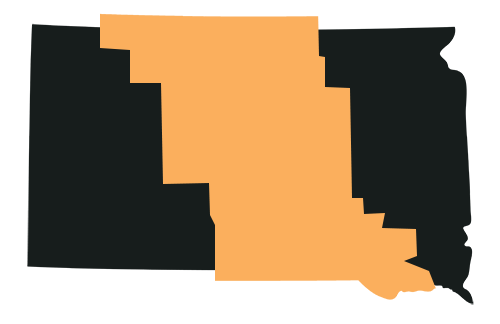 CENTRAL REGION
This region of South Dakota offers some of the best hunting and fishing in the entire central US.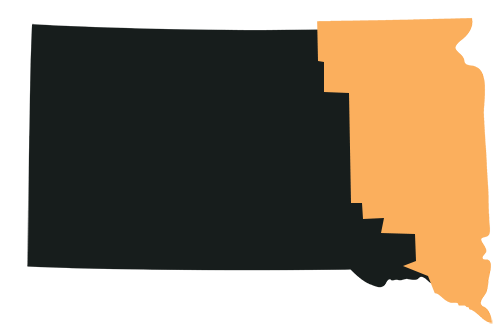 Eastern Region
The eastern region is home to the largest city in the state and provides visitors with a true "prairie" experience.