Fishing
With public access to over 1,100 square miles of water, South Dakota offers an excellent fishing opportunity for anglers looking to fish in the state. Over 98% of the state's public waters are accessible to the general public.
Obtaining a Fishing License
All South Dakotan anglers are required to have a valid license in their possession while fishing. Learn more about how to obtain a South Dakota fishing license.
State Parks
The state has a seemingly endless amount of water for anglers to explore. One of the common fishing spots is along the Missouri River at a variety of locations throughout the central part of the state.
If you are looking for a place to stay along the river check out some of the awesome state parks.
Many have direct access to fishing so it will provide easy access and make your stay enjoyable.
With more than 1,100 square miles of water reservoirs and a year-round fishing season, South Dakota is a fisherman's dream. From glistening mountain streams to glacial lakes to Prairie Rivers, the state is rife with some of the finest fishing opportunities in North America. Although there are dozens of fish species for the catching, South Dakotan fishers seem to prefer several tried-and-true favorites, including the walleye, bluegill, bass, catfish, northern, trout, perch, pike, salmon, and crappie.
Each region of South Dakota offers its own unique fishing opportunities and conditions, all infused with natural beauty.
Western Region
South Dakota's western region, home of the state's Black Hills region, has ample fishing opportunities.  With 14 mountain lakes and over 400 miles of winding streams,  brook, brown, and rainbow trout are abundant.  There are also reservoirs and ranch stock dams in the area prairies which are full of largemouth bass, northern pike, and a variety of panfish.
The central region of South Dakota is home to the majestic Missouri River, a picturesque fishing spot, once traveled by Lewis and Clark.  In addition to the waters of the Missouri, the central region also boasts four massive dams.  Prairie stock dams are a little less intimidating, but still stocked with fish.  Created to water fish and preserve soil and ground, these stock dams are a prime fishing area.
Glacial lakes and fields of crop dominate South Dakota's eastern region landscape.  The Missouri River meanders from the central to the eastern region, where the Lewis and Clark Recreation Area takes advantage of the river's fishing and swimming areas.  And with 120 glacial lakes in the eastern region, there is no shortage of excellent fishing.
South Dakota Fishing/Hunting Lodges
There are many fishing lodges located all throughout the state. Many cater to hunting and fishing. No matter what you are looking for, there is certainly a lodge and/or guide service that can fit your needs.
Great Faces. Great Places.
South Dakota is an incredibly unique state in that each region offers a completely different experience then the others. Check out each of the regions to see what each has to offer!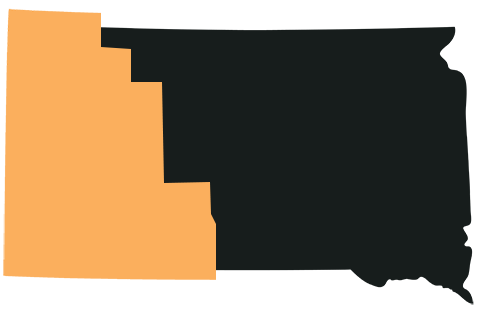 Western South Dakota
Featuring the Black Hills, Badlands, the Sturgis Rally. This region tends to be the most popular.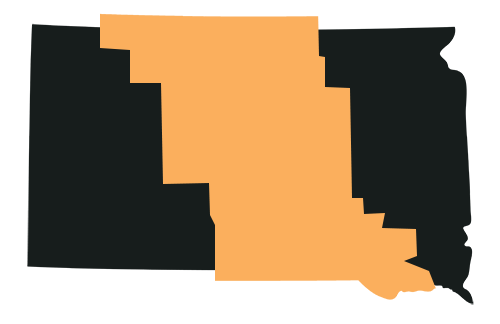 CENTRAL REGION
This region of South Dakota offers some of the best hunting and fishing in the entire central US.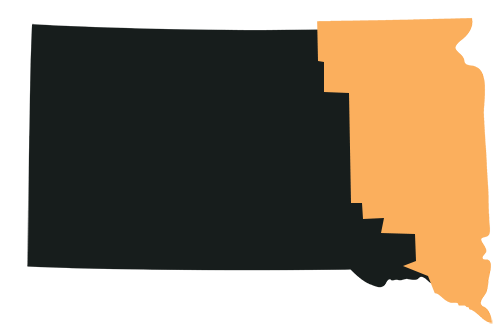 Eastern Region
The eastern region is home to the largest city in the state and provides visitors with a true "prairie" experience.