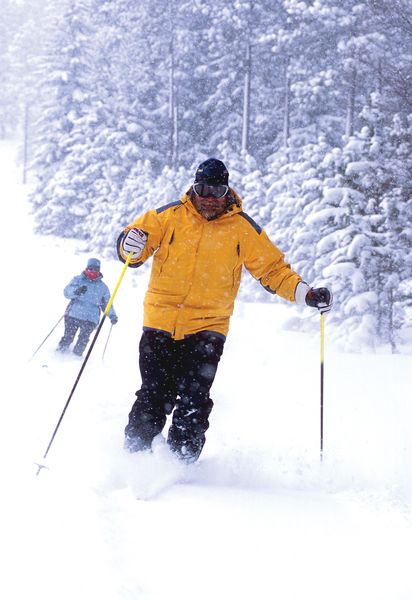 My daughter is only 3, but I know she's a true South Dakotan. She was looking out the front window of our house the other day and said, "I wish it would snow. I like snow."
I like snow, too. Even when there's a blizzard that requires me to shovel for hours and knocks out my electricity, I don't complain about it. I like the variety of the seasons, and I like those days sprinkled through the winter when the sun shines, the wind dies down and the temperature warms to around or above freezing. That's when the window of opportunities on outdoor, wintertime activities opens wide.
There's plenty of stuff to do in South Dakota during the winter. Following is my ranking of the state's top-10 winter activities.
1. Downhill skiing. South Dakota isn't exactly a skier's Mecca, but there are some great slopes in the Black Hills, including Terry Peak and Deer Mountain. Even the mostly flat eastern part of South Dakota has Great Bear, a skiing facility near Sioux Falls. In the hundreds of miles between the Hills and Sioux Falls, the only skiing you'll find is cross-country (see below).
2. Snowmobiling. This is an activity that can be enjoyed pretty much anywhere in the state. In the east, there are plenty of wide-open spaces where snowmobilers can open up the throttle. In the Black Hills on the state's west side, there is a fantastic system of scenic trails that snowmobilers can spend days exploring. For more information on trails, go to http://gfp.sd.gov/to-do/snowmobile/default.aspx.
3. Cross-country skiing. There are some great trails in South Dakota's state parks, which you can explore at http://gfp.sd.gov/to-do/x-country/default.aspx.
4. Snow-shoeing. A great alternative to cross-country skiing that can be done in most of the same places.
5. Getting away and holing up. The Black Hills is known mostly as a summertime destination, but here's a great secret: During the winter, many of the cabins and lodges in the Hills reduce their rates in an effort to fill their rooms. Especially for couples, the Hills in winter is a great and affordable getaway. A few years ago, my wife and I had a great time staying at Newton Fork Ranch near Hill City in the middle of winter, where we enjoyed a quiet couple of days playing scrabble, watching deer and decompressing.
6. Snowball fighting. The average annual snowfall in South Dakota is 24-30 inches across most of the state, and 60-100 inches in the Black Hills. That creates plenty of opportunities for children and children at heart to wad up a few snowballs and let 'em fly.
7. Snow-fort building. This is a nice change of pace when you and your kids get tired of No. 5. This activity is also why my daughter likes the snow so much. Last year, we got so much snow that we were able to build not only a fort, but also a slide on top of it.
8. Sledding. Finding a place to sled on the eastern South Dakota prairie can be tough, but the search for a great spot is part of what makes sledding fun. The best sledding happens when you and your family find a tucked-away place and can enjoy yourselves in relative privacy for as long as you want.
9. Ice fishing. I must confess that I've never done this one, but there must be something to it. Drive by any thickly frozen lake or even river in South Dakota from mid- to late-winter, and you'll see shacks out on the ice.
10. Seeing the sights. The Falls of the Big Sioux River freeze during the winter, giving Falls Park a different and interesting look. The Badlands take on snow, providing a different yet equally beautiful scene for visitors. Top attractions such as Mount Rushmore remain open, but with nowhere near the congestion that's so common during the summer months. So, if you can take the cold, or if you happen to catch a run of mild weather sometime during the winter, you can have an enjoyable day trip or mini-vacation just going to some of the places you would otherwise visit during the summer.