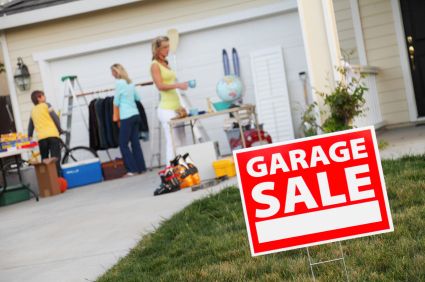 Yard sale, garage sale, rummages…there are many names, but they all mean the same thing: a bargain. And a garage sale is the perfect way to start a South Dakota morning. Hitting up a garage sale is a unique way to really get to know a town and its people, and that's especially true in South Dakota, where the neighbors are friendly!
One of the best things about a garage sale is the unusual finds, or the treasures that have a story behind them. Garage-saling last weekend I found what looked like mini-muffin tins, but turned out to be a tartlet pan that had been used for over 30 years by its owner to make pecan tartlets for family holiday gatherings. You just don't get that kind of history at a big box store.
If you have children, garage sales are the mother lode for children's clothing. Although some might be wary of buying someone else's hand-me-downs, you can often find barely used children's clothing, sometimes with the tags still on. Something you might not have thought of is using garage sales to find your South Dakota vacation souvenirs. You might find a great bargain on those South Dakota t-shirts or sweatshirts!
Or what about planning a garage sale vacation? Start at one end of South Dakota, and garage sale your way throughout the state. You'll get to know the different geography and regions of South Dakota, while seeing all that South Dakota's small towns and big cities have to offer. You'll also experience South Dakota's great natural resource, it's friendly people!
To get the most out of your South Dakota garage sale adventures, here are a few helpful hints:
Look for garage sale listings in mutiple places–the newspaper, community calendars, and Craigslist are all great places to find recent garage sale listings.
Be the early bird! Be respectful of the opening time of a garage sale, but get out there early! Some of the most interesting and unusual finds go quickly at a garage sale.
Bring small bills and change. You'll be more likely to get correct change, and not wipe out a garage sale's cash drawer, if you carry smaller bills.
Take the time for detours! Part of the joy of garage sales is getting to know a new town or area, and South Dakota has plenty of attractions that will catch your eye. Be sure to take the time to check them out!