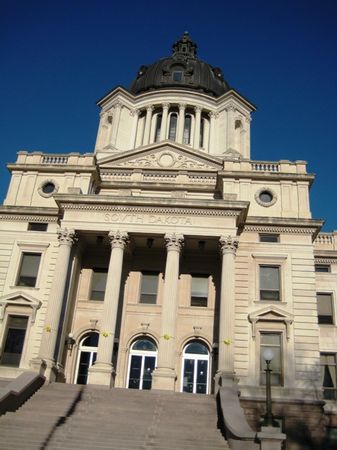 PIERRE, S.D.– The State Capitol Building of South Dakota, in Pierre, is more than just a place where bills are discussed and meetings take place. The building's exquisite features and events make it one of South Dakota's Great Places.
The building was completed in 1910 using a variety of materials including native field stone, Michigan sandstone, Indiana limestone, and Vermont and Italian marble. It features hundreds of handcrafted materials like carved woodwork and marble, special cast brass and hand-laid stone.
Restoration of the State Capitol to its original 1910 appearance began in 1977 and was completed in 1989, in time for South Dakota's Centennial Celebration. Some defining characteristics include marble staircases, Victorian leaded glass, terrazzo floor and scagliola columns.
The State Capitol is home to artwork which was specifically created for the building. Work from artists including Charles Holloway, Edward Simmons, Gutzon Borglum, and H. Daniel Webster make the Capitol a unique experience for visitors.
The mosaic floors, made up of thousands of small pieces of marble, have a mystery of their own. Despite any hard evidence, legend has it that the 66 Italian workers each left their own signature of a blue tile laid randomly into the floor. Only 57 of the tiles have been spotted, two of which are again hidden. It's possible that only 57 blue tiles were laid, or that the remaining 9 have yet to be discovered under furniture or carpet.
Each year the Capitol glows with thousands of lights adorning about 100 trees that are decorated by businesses and organizations throughout the state. The annual tree lighting ceremony to kick off Christmas at the Capitol is typically held the Tuesday before Thanksgiving, and trees are on display through Dec. 26.
The Capitol Building is open and free to the public for viewing from 8 a.m.-10 p.m. CDT, daily. Tours are provided by volunteers and should be pre-scheduled. Visitors may also obtain a self-guided tour brochure in the Security/Tour Office.
South Dakota's Great Places weekly press release series is a project of the South Dakota Department of Tourism, designed to highlight places in South Dakota that are unique to travelers and residents alike. Click on the special "South Dakota's Great Places" link at www.MediaSD.comto access the complete list of articles.