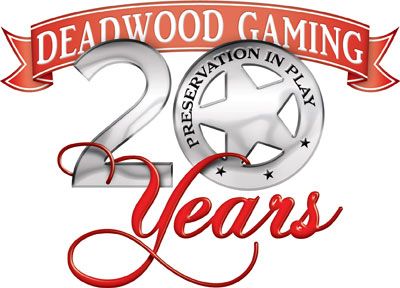 The Deadwood Chamber of Commerce issued a news release recently to plug the 20th anniversary of legalized gambling in the city. Deadwood always has been connected with gambling, especially since Wild Bill Hickock was fatally shot while playing cards there in 1876. But gambling was officially illegal in the city from 1947 until it was reinstated in 1989 following a statewide vote on the issue.
Here's part of what the news release says about that history:
Twenty years ago this summer, Deadwood, South Dakota, was on the verge of an economic boom not seen since gold was discovered here in 1876. The reason: Legalized gaming was coming to Deadwood in November of 1989, and the city was gearing up for a whole new industry.
In the fall of 1988, South Dakota had approved a constitutional amendment to allow limited-stakes blackjack, poker and slot machines in Deadwood. The intent was to raise enough money to preserve this famous city's historic-but-aging architecture and unique Western character. By a wide margin, statewide voters agreed with the plan. The amendment won with 64 percent of the vote.
The amounts wagered annually in Deadwood climbed steadily and hit a milestone in 2007, the first year that wagers surpassed $1 billion. In fiscal year 2008, the amount wagered was about $1.118 billion. Here's some more history from the release:
In 1989, in the months leading up to the official launch of gaming, Deadwood was heading into unknown territory. Gambling was still illegal just about everywhere but Nevada and Atlantic City, N.J.

The transformation of Deadwood into a major gaming destination didn't happen overnight, said Keith Umenthum, longtime building inspector for the city of Deadwood. When gaming became legal in November 1989, only a handful of gaming establishments were open for business. But their success touched off a boom that began in earnest in early 1990, Umenthum said.

"In 1990, I could walk down Main Street and there would be some kind of construction in just about every other building," he said.

In the 1980s, the architectural drawings of building projects on file at Deadwood City Hall were divided into one file drawer per decade. In the 1990s, the drawings were filling one drawer per year, said Mike Runge, Deadwood archivist. In 1991, the architectural drawings filled two drawers by itself.

And the gaming boom continues in Deadwood. Recent renovations of the Frontier Club building on Main Street and the Martin & Mason Hotel on Sherman have continued the reconstruction of the historic downtown. The transformation of the former Homestake Mining Co. slime plant into the Deadwood Mountain Grand Hotel & Casino is underway. The Lodge at Deadwood, a new hotel, resort and convention center, is set to open this fall.
Taxes and fees from the gambling in Deadwood benefit many sources. In fiscal year 2008, about $15 million was split between the city of Deadwood, Lawrence County, other cities in the area, school districts in the area, the state Office of Tourism, the state general fund, the state Historic Preservation Office, and the state Department of Human Services.
Video lottery gambling also is legalized throughout South Dakota, as are scratch-ticket games and Powerball (a South Dakota man, Neal Wanless, recently won a $232 million Powerball jackpot). American Indian tribes in the state are allowed to operate casinos, and many do.
Some South Dakotans resent the way in which their state government and local governments have come to depend upon gambling revenues, but that dependency is precisely why it's unlikely that the scale of gambling will ever be rolled back.
Deadwood certainly isn't going back to its pre-gambling days of 20 years and billions of dollars ago. Here's what the city is doing to celebrate its gaming anniversary:
Each Deadwood event this summer, including Wild Bill Days June 19-21, the Days of 76 Rodeo July 21-25, the Sturgis Motorcycle Rally Aug. 3-9 and Kool Deadwood Nights Aug. 20-23, will highlight the 20th anniversary.

It all culminates during a weeklong celebration during the first week of November, exactly 20 years after the slot machines first lit up on Deadwood's Main Street and changed the city forever. Week's events will include educational as well as entertainment venues, and will feature a 20th Anniversary Gala on Nov. 7.