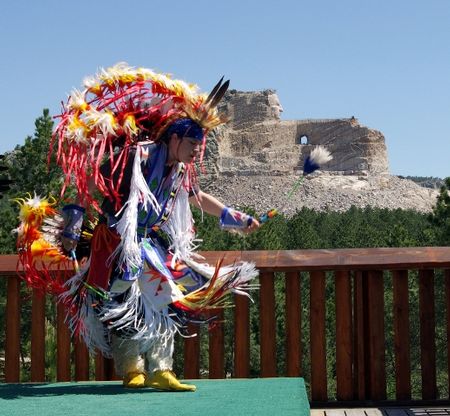 A news release from the South Dakota Office of Tourism:
CRAZY HORSE, S.D. – Crazy Horse Memorial will celebrate Native American Day with its 20th annual celebration on Monday, Oct. 12, starting at 10:00 a.m. MDT. Traditional hoop dancers, Native American artists, an educational program, a free buffalo stew feed, activities for children, a blast on the mountain and the final laser show of the season will all be a part of the event.
Since the first Native American Day celebration in October of 1990, Crazy Horse Memorial has been the focal point of the state's celebration of its indigenous people. At the first program, the late Gov. George S. Mickelson addressed the crowd of almost 1,000, stating that "reconciliation must be on a people-to-people basis."
Mrs. Ruth Ziolkowski, President of the Crazy Horse Memorial Foundation, is proud to continue that tradition. "It is an honor and a privilege for Crazy Horse Memorial to host the official Native American Day celebration in the country," said Ziolkowski. She added that it is a day set aside to pay respect to their rich heritage and honor their contributions to our society.
Today there are nine federally recognized tribes across the state of South Dakota; from the Santee Sioux in Flandreau to the Oglala Sioux in Pine Ridge. The activities at Crazy Horse begin with the presentation of the colors, followed by speakers, dancers and a drum group. There will be a traditional blast on the mountain, weather permitting, followed by a free buffalo stew lunch for all the visitors. The day concludes with the season finale of the laser-light show "Legends in Light" beginning at dark.
All area schools are encouraged to bring their students to participate in the cultural activities taking place throughout the complex. The event is free. A donation of three cans of food per person is suggested. All donated food will be given to local food banks.