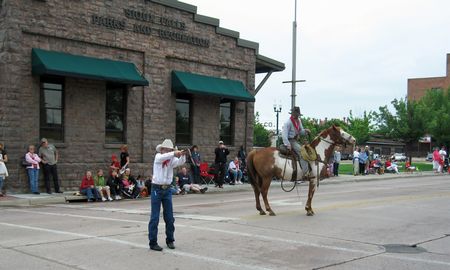 While cities across the country cancelled fireworks and Fourth of July festivities due to budget constraints, Sioux Falls bucked the trend and celebrated with a parade, a free picnic put on by Mayor Dave Munson, and a memorable fireworks display.
The day started with rain, dark clouds, and messages among my friends, wondering if the parade would be cancelled. With no indication it might be, we headed downtown and set ourselves up at the corner of 6th and Phillips to watch the short, but colorful parade, and thankfully the sprinkles ended as we arrived.
Although the parade was small due to weather, there were some unique entries including a troupe of unicyclers and a cadre of bull-whip wielding cowboys and cowgirls, who joked that they "eat dogs for breakfast."
After the parade, we headed up to Falls Park, and got in line for Mayor Dave Munson's free Fourth of July picnic. I was quickly impressed with the scale and efficiency of the setup. Despite a throng of people lined up in front of us, my friends and I were served by friendly volunteers within minutes. And the food wasn't what you would expect from a free lunch either. The South Dakota pork producers provided tasty pork sandwiches, along with kettle cooked potato chips, all served on a recycled frisbee promoting Sioux Falls' green efforts.
While we ate, the Sioux Falls Municipal Band, in their 90th year, regaled the crowd with patriotic favorites like the Star Spangled Banner and My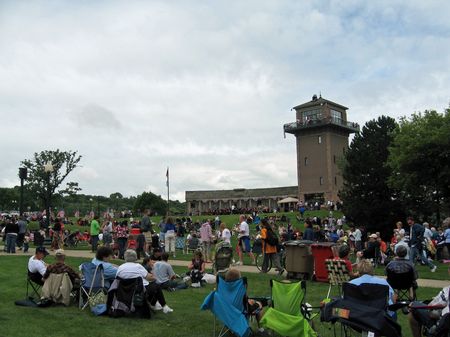 Country Tis of Thee.
After an evening barbecue with friends, we headed over to the fairgrounds for the evening's fireworks display. Even though we stayed on the outer fringes of the parking area, for a quick escape after the show, we were close enough to see the grandeur of the sky being lit up by a variety of colors, shapes and sizes of fireworks. A few sideways smiley face fireworks aside, the display was beautiful.
While other towns are lamenting the demise of their Fourth of July celebrations, Sioux Falls is still celebrating. Like South Dakotans in general, Sioux Falls residents embrace the chance to show their community spirit, and Independence Day was the perfect time to do that.