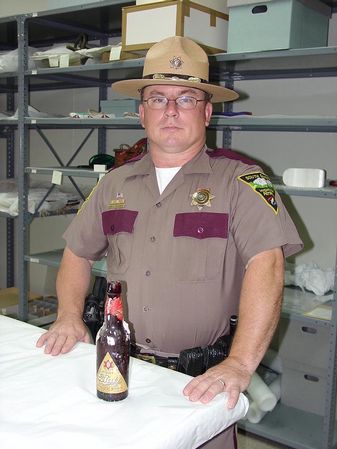 A bit of the building's history that was bottled up for more than a century was recently found in the South Dakota Capitol at Pierre, according to a news release from the State Historical Society.
Brent Saucerman, a Highway Patrol trooper assigned to Capitol Protective Services, was making a third-floor security check on the south end of the House of Representatives when he peeked into a vent near the floor.
What Saucerman saw looked like a brown bottle, stuck in plaster. He took off the vent cover and scraped away the plaster and, sure enough, it was a bottle – a well-preserved Blatz beer bottle dated June 30, 1906.
Saucerman took his unique discovery to Jim Fry, director of the Legislative Research Council, whose office is also on the third floor of the Capitol.
"I knew it was an old bottle that might be significant and should be saved," Saucerman said. "It's something that belongs to the state and the people of South Dakota."
Fry brought the bottle to the attention of Mike Mueller, special projects coordinator for the state Bureau of Administration, which oversees the care of the Capitol.
Mueller took the bottle to Jay D. Vogt, director of the South Dakota State Historical Society at the Cultural Heritage Center. The beer bottle is now part of the society's museum collection in the center.
Vogt said it is an important find.
"This beer bottle was either accidentally left in a hiding place or deliberately left as a kind of time capsule item," he said.
"Discovering material from the time of the State Capitol construction gives us a glimpse at what life may have been like then," added Vogt, noting that the Capitol was constructed from 1905-1910. "When restoration work was being done on the Capitol foundation a few years ago, workers found three bottles that must have been tossed in at the time dirt was initially backfilled around the foundation"
Saucerman thinks the old beer bottle was probably hidden by a "common guy" who was helping build the Capitol.
That brings up an interesting point, Vogt said.
"Discovering the beer bottle and other bottles earlier indicates that workers may have actually been drinking on the job," he said.
Saucerman, who is a history buff, is proud to have found a bit of the building's heritage.
"It's an honor to find something like that and be able to preserve it," the trooper said.