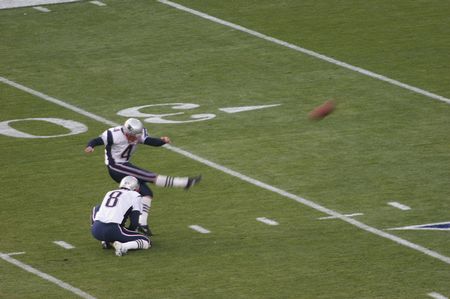 Adam Vinatieri kicked yet another NFL game-winning field goal this past weekend. This time, it was a 43-yarder as time expired to give the Indianapolis Colts a 23-20 win over the Tennessee Titans.
The 38-year-old Vinatieri could retire right now and be remembered as the greatest clutch kicker in NFL history. But his holder, Pat McAfee, told the Indianapolis Star after Sunday's game that Vinatieri is far from being in the twilight of his career.
"I've never seen a guy kick the ball as good as Adam Vinatieri's kicking right now," McAfee said.
I've written before about the degree to which South Dakotans' pride swells whenever a native son or daughter makes it big. There are few better examples of that than Vinatieri, who was born in Yankton, went to high school in Rapid City and kicked in college for South Dakota State University. Unlike many South Dakota-born sports stars like Sparky Anderson or Jason Kubel, who moved away from the state during their childhood years, Vinatieri is a South Dakotan through and through. Not only was he born and raised here, but his great-great grandfather Felix Vinatieri served as bandmaster for Lt. Col. George Armstrong Custer, who led the U.S. government's first expedition into South Dakota's Black Hills.
Nobody could have predicted the success Vinatieri has enjoyed as an NFL kicker. He had a nice career at South Dakota State University and kicked 27 field goals, a then-school record that has since been surpassed. But SDSU was a Division II school at that time and had produced few memorable NFL players (the most memorable was SDSU grad Jim Langer, the center for the Dolphins when they went undefeated in 1972, the year of Vinatieri's birth).
In a fashion true to his South Dakota roots, Vinatieri worked his way into the NFL by force of will. He spent a year training and improving and a season with an NFL Europe team before catching on with the Patriots. Between his time with the Patriots and now the Colts, he has played in five Super Bowls and kicked the game-winner in two of them.
Is Vinatieri the greatest athlete South Dakota has ever produced? He's building a strong case, though some people are hard-pressed to give such an honor to a kicker. South Dakota's athletic heritage includes such stars as Olympic gold medalist runner Billy Mills, the aforementioned Langer, current NBA player Mike Miller and several Olympic medalist wrestlers.
Those are all great athletes, but it's hard to beat Vinatieri for sheer volume of achievement. It would have been remarkable if his claim to fame had only been kicking the game-winner in the snow in the infamous "tuck-rule game," or kicking the game-winner in just one Super Bowl rather than two. But Vinatieri didn't just accomplish one of those things. He did it all, and he's added to the list with a sustained, year-after-year record of excellence. If there's a more accomplished South Dakota-born athlete, I'd be surprised.